Optimizing Business Bathrooms: Choosing the Right Bathroom Vanity Sizes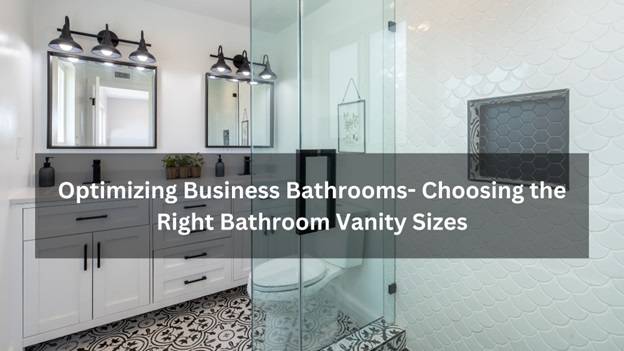 A thoughtfully designed bathroom uplifts any business environment, whether it's an office, restaurant or hotel. The vanity plays a central role, which includes dictating available space for hand washing, storage and grooming. Choosing the right vanity size is key to maximizing comfort, accessibility and aesthetics. It's best to follow strategic planning and measurement steps to ensure that selected vanity is tailored to your needs.
Why Proper Vanity Size Matters
Bathroom vanities serve as a key focal point and are an essential utility fixture. A vanity's size, width and height help define the room's proportions and flow. 
The correct vanity dimensions allow for ideal ergonomics and accessibility based on typical user height. Adequate size promotes easy access to the sink basin, grooming product storage and counter space for hygiene activities.
In business settings like offices, hotels and restaurants, a poorly sized vanity sticks out and detracts from the intended design. Vanities that are too small or large throw off bathroom ergonomics and limit functionality.
Choosing Suitable Vanity Heights
Standard bathroom vanity sizes and heights range from 30 to 36 inches. Choose heights based on the primary expected users:
Master Bathroom – Use traditional 36 inch height. This puts countertops at a comfortable level for daily grooming tasks.

Guest Bathroom – For public-facing restrooms, consider 32 to 34 inch heights. This improves accessibility for diverse populations.

Kids Bathroom – For any child-height users, install children's vanities around 30 inches high. Include stools for added comfort.
Factors influencing ideal vanity height include:
Average user height and abilities

ADA compliance requirements

Presence of children or wheelchair users

Type of sink basin and counter design

Planned vanity depth and clearance
Measure the ideal mounting height directly from the floor up, accounting for desired countertop thickness. If concerned about accessibility, lean towards the lower end of the height range. Wall mounted designs can allow for slight adjustments.
Choosing the right vanity height improves experience and accessibility for all users. Avoid uncomfortable crouching or reaching by properly accommodating user populations.
Benefits of Proper Vanity Sizing Include:
Beyond just aesthetics, taking the time to select a vanity sized appropriately for your bathroom space and needs delivers immense functional benefits:
Optimized Ergonomics
The right vanity width and height ensure users can comfortably access the sink basin without excessive bending or stretching. This prevents strain while performing tasks like hand washing and grooming.
Increased Accessibility
Generously sized vanities allow even wheeled mobility devices to maneuver. Lower heights aid those with back problems or disabilities. Proper sizing caters to diverse users.
Enhanced Storage
Adequately wide vanities maximize under-sink and counter top storage for toiletries, supplies and appliances. Cabinet depth provides substantial enclosed storage.
Added Safety
Well-sized vanities give users secure footing while using the sink area. Ample floor and circulation space prevents slips or falls in the bathroom.
Improved Hygiene
Sufficient counter area enables hygienic grooming and hand washing. This helps maintain cleanliness among employees and guests.
Greater Durability
Properly sized vanities experience less strain and damage from tight squeezes during use. Overhangs and legs avoid damage from carts or mobility devices.
Streamlined Maintenance
Technicians can readily access plumbing, electrical and vanity interiors for maintenance. No cramped quarters or obstructions.
Enhanced Brand Image
Ideal proportions and spaciousness project an inviting, upscale impression on visitors. Poorly sized vanities look cramped and detract from ambiance.
With benefits spanning ergonomics, accessibility, storage, safety, hygiene, durability and brand image, the advantages of proper sizing are far-reaching.
Measuring the Space Prior to Selection
Source: badeloft
Before choosing a new vanity, measure the available space thoroughly. Key dimensions include:
Width – Maximum area accounting for adjoining fixtures

Depth – Standard counter overhang of 21-22 inches

Height – From floor to desired mounting level of 30-36 inches
Also note exact locations of plumbing and electrical connections. Avoid interference with door swings or room layout. An accurate as-built drawing is invaluable for ideal vanity sizing.
Guidelines for Determining Optimal Vanity Width
Available floor space and intended users dictate width. Standard sizing conventions:
Single vanities:
24-30 inches wide – Typical for guest bathrooms

30-42 inches wide – Provides one user ample room

36-42 inches wide – Lavish grooming space for one
Double vanities:
48-60 inches wide – Allows two users adequate room

60-72 inches wide – Comfortable for couples

72+ inches – Indulgent side-by-side grooming area
For commercial bathrooms, tailor single vanity widths based on expected traffic rather than over allocating space.
Finalizing Vanity Selection
Once you've determined the optimal vanity dimensions for your space, keep these additional factors in mind while selecting a model:
Material and Durability:

Prioritize commercial-grade wooden construction over cheaper particle board options. Solid hardwoods like oak and maple offer enduring quality.

Design and Finish:

Match the style and finish to your professional branding and interior decor. Contemporary curved designs or traditional shaker cabinets set different tones.

Customization Options:

Many manufacturers offer modifications like height adjustments, material upgrades and sizing customization for an ideal fit.

Edge Profiles:

Squared, beveled and ogee edge profiles for countertops and cabinet doors impact aesthetics. Evaluate personal preferences.

Hardware Selection:

Sturdy metal knobs, pulls and hinges in finishes like brushed nickel or bronze elevate the look. Avoid plastic hardware.

Lighting Choices:

Opt for integrated lighting or wall sconces to illuminate tasks. LED lighting offers excellent visibility.

Faucet Styling:

Select commercial-grade faucets with minimalist shapes or artistic forms aligned with your brand. Add aerators for efficiency.

Drain Configuration:

Determine whether above-counter or below-counter vessel drain positioning better suits your sink selection.

Storage Solutions:

Incorporate functional drawers, cabinets, trays and organizational compartments tailored to the items needing storage.
By evaluating these ancillary factors thoroughly, you can curate a cohesive, tailored vanity solution aligned beautifully with your business environment.
Key "Measure Twice, Buy Once" Tips
Before purchasing, validate:
Adequate clearance around vanity when opened and closed

Sufficient room for drawers and doors to fully open

No obstructions of legs or overhangs with walkways

No contact between cabinet hardware and other fixtures

Easy wheelchair access with minimum floor space

Vanity placement aligns with plumbing connection points
Accurate planning measurements ensure your investment yields enduring returns through a vanity sized just right for your needs.
FAQs
What's the best vanity size for a narrow business bathroom?
Focus on the minimum floor space needed for comfortable vanity access over maximizing size. Wall-mounted or corner vanity types work well.
Can a double vanity fit into a medium-sized commercial bathroom?
Double vanities need about 60-72 inches total. Ensure adequate floor space on each side, including door swing clearance. Moving plumbing lines likely adds cost and complexity.
Should I choose an undermount or vessel-style sink?
Undermount sinks maximize counter space, while vessel sinks spotlight the sink itself. Evaluate cleaning needs, counter space, and visual appeal. Both add flair over drop-in sinks.